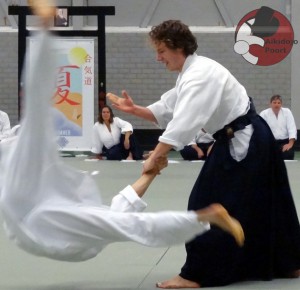 Aikido is a Japanese martial arts. It is a form of self-defence that does not employ violence such as punches and kicks. Instead, practitioners aim to resolve conflict without harming the opponent. This can be achieved by learning to control one's opponent through pins and throws. A common phrase associated with aikido is "using your opponent's strength".
Although aikido is often classified as a sport, there is no competition. The objective is not to become better than someone else, but to learn from eachother so both parties can become better. Despite the absence of competition, aikido is a great way to improve one's fitness, coordination, concentration and self-confidence.
Because of its non-violent nature, aikido is often used by police forces around the world. When applied properly it can be a very effective way of non-violent self-defence.
Aikidojo Poort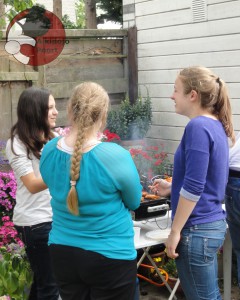 Aikidojo Poort is an aikido club in Almere-Poort. It was founded in 2015 by Maarten Heinsius. Up until then all aikido classes were taught in Almere-Stad. Aikidojo Poort is part of Aikido Kenshukai Nederland and Aikido Nederland, two organisations that aim to guarantee the level of aikido taught in the Netherlands, and that organise international seminars and teaching courses.
We practice in a mixed group with people of a variety of backgrounds, ages and sizes. Aikido can be practiced without strentgh and so is also an attractive art for women and children.
Teachers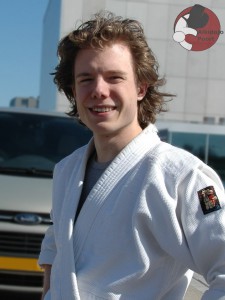 There are several people that teach at Aikidojo Poort. Principal teacher is Maarten Heinsius. Maarten started doing aikido in 1995, studying under Erik Louw. He practiced both in Almere and Amsterdam and took up teaching in Erik's dojo in 2006. In 2007 he moved to Japan for a year, to gain a better understandig of the Japanese language, culture, and of course aikido. Maarten then moved to the UK for a few years for his studies. In 2013 he returned to Almere and resumed teaching with Erik, while doing an official aikido teacher course. Maarten has yondan (4th degree black belt).
Maarten is a chiropractor and has a thorough understanding of the human body. This knowledge is evident in his classess, which concentrate on safety and the rationale behind aikido techniques.
Maarten is fluent in Dutch and English and also speaks Japanese and some Spanish.
All other teachers at Aikidojo Poort can speak English as well as Dutch.
Schedule and location
We practice in the sportshal of Sterrenschool De Ruimte in Almere Poort. The address is:
Nimfenplein 1
1363SV Almere
Our schedule is:
Tuesday 18:00 – 19:00 (youth 6-9)
Tuesday 19:00 – 20:00 (youth 9-12)
Tuesday 19:30 – 21:00 (adults)
Thursday 19:00 – 20:00 (teens 12-18)
Thursday 20:00 – 21:30 (adults)
Saturday 9:00 – 10:30 (adults)
Saturday 10:30 – 11:30 (youth 6-12)
If you have any questions, please don't hesitate to contact us:
info@aikidojopoort.nl
+316 449 549 49